Chris Norgard
Sports and Exercise Physiotherapist, Practice Principal
B.App.Sc (Physiotherapy), M. Sports Phty. APA Sports and Exercise Physiotherapist
Chris graduated from the University of Sydney in 1992 with a Bachelor of Applied Science in Physiotherapy. After completing his allocation year at the John Hunter Hospital he travelled overseas to America where he worked as a physiotherapist for a large health care facility with staff from around the globe.
Chris then returned to Newcastle working in several clinics before going into practice in 1998. Chris has worked at various sporting events and for various teams including working as a physiotherapist at the Olympic Village in Sydney 2000. Chris was the physiotherapist for Western suburbs Rugby League club for 10 years between 2006-2016
In 2005 Chris completed his Masters of Sports Physiotherapy at Griffith University and in 2006 he became an APA Sports and Exercise Physiotherapist. Chris continues to have an interest in Sports Physiotherapy and after working as a physiotherapist for many years, he has a wealth of knowledge treating a wide variety of conditions.
To mix things up Chris was a contestant in the 2016 season of My Kitchen Rules. He competed with good mate Cookie and finished a respectable 6th.
Over the years Chris has himself suffered numerous injuries.
2 shoulder dislocations
AC jt dislocation
fractured wrist which required 5 k Wires
fractured shoulder
ACL rupture and subsequent reconstruction
Numerous sprains and strains
He has been through the rehab process himself and is keen to help you achieve the best result you can.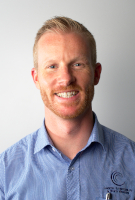 Will Littler
Physiotherapist, Practice Principal
B.Coach.Sci/Hum.Nutrition, Master of PHTY
Will completed a Master of Physiotherapy from the University of Canberra. He worked in private practices in Canberra before relocating to Newcastle. Will is a Watson Headache® Certified Practitioner enabling him to affectively assess if your cluster headache, tension headache or migraine is contributed by your cervical spine (neck), and treat it. Will also has a particular interest in treating those with temporomandibular dysfunctions (TMJ pain, jaw pain, clicking jaw, restricted jaw movements) utilising the Latimer Approach and neck pain (e.g. whiplash symptoms, postural pain and stress related).
Over the years he has enjoyed treating an array of musculoskeletal conditions including pelvic instabilities/dysfunctions, back pain and foot pain. In combination with patient education and active rehabilitation, Will is an advocate of a 'hands-on' approach when it comes to intervention. He has also worked closely with orthopaedic specialists to ensure clients achieve optimal results with their rehabilitation. Outside of work Will enjoys travelling, surfing and ultimate frisbee.
Rebecca Lang
Senior Physiotherapist
B.ExcSc, Master of PHTY
After completing her degree in Exercise science in Bathurst Rebecca graduated from the University of Canberra with a Masters of Physiotherapy. After working for several years in private practice in Newcastle Rebecca left our shores to work in London as a senior physiotherapist at a large sports clinic. She has since gained extensive experience in orthopeadic, sports and musculoskeletal physiotherapy. She rejoined the team at Lambton Physiotherapy in January 2019 and is focused on providing effective evidenced based care.
Rebecca has furthered her knowledge and skills completing courses in advanced treatments of the shoulder, lower back pain, sports, dry needling and acupuncture and more recently treating conditions relating to ante and post natal pain. Rebecca has also completed her level 1 DMA clinical Pilates and Sports Physiotherapy Level 2.
Rebecca has taken a special interest in injuries of the lower back, pelvis and lower limb. She is able to perform video running analysis and review biomechanics to help improve techniques that may be causing your issues.
Rebecca uses a variety of manual treatments that include soft tissue therapy, joint mobilisations and needling alongside a strong focus on exercises and functional movements for rehabilitation.
Outside of the clinic Rebecca enjoys her running, touch football and gym.
Lauren McDonald
Physiotherapist
B.Ex &SpSc, M.Phty
Lauren graduated with a Masters of Physiotherapy at The University of Sydney in 2016.
After completing her physiotherapy training Lauren began working at a private practice in Sydney specializing in Dance Physiotherapy.  During her time here she developed the knowledge and skills required for the management and prevention of dance injuries. Lauren has a strong interest in this field as she has experience dancing full-time during school and professionally for Queensland Ballet. Lauren knows firsthand the demands dancing has on the body and she encourages dancers of all levels and styles to come see her at Lambton Physiotherapy to get on top of any niggling injuries, injury prevention, flexibility/strength training or for dance/pre-pointe assessments.
Along with her interest in dance Lauren enjoys training for triathlons, various running events and has spent years playing netball so has a passion for the management and prevention of all sport injuries.
Lauren has completed all Australian Physiotherapy Pilates Institute Mat (Level 1-3) and Equipment (Level 1 -4) courses.
Not only is Lauren a Physiotherapist and Pilates Instructor she is also a qualified Vinyasa Yoga Instructor.
Rebecca Malloy
Physiotherapist
B.Physiotherapy
Rebecca graduated with a Bachelor of Physiotherapy at the Australian Catholic University in Sydney in 2017.
Rebecca spent her first year as a Physiotherapist with Hunter New England Health district. Primarily treating post-operative patients in the acute setting, she developed skills in musculoskeletal, orthopedics, neurology  cardiorespiratory, neurological, oncology and rehabilitation. Rebecca joined the team at Lambton Physiotherapy in January 2019 and has gained a wealth of experience in all areas of private practice.
Having played a range of sports competitively, including representative netball, touch football, soccer, athletics, rowing, tennis, and triathlon, Rebecca understands the demands of sport and the need to manage injuries through training and competition loads. Rebecca has worked with both Netball and First Grade AFL teams throughout her studies in Sydney.
Rebecca has completed courses with the Australian Physiotherapy Pilates Association in level 1-4 equipment pilates and level 1-3  matwork pilates. Bec has also completed her training in dry needling which she finds effective in managing pain and dysfunction.
Fahim Takbir
Physiotherapist
B.Physiotherapy
Fahim graduated in 2018 with a Physiotherapy degree from Charles Sturt University, Orange, NSW.
Fahim has had exposure to a wide variety of areas of practice, including working with sports teams, private practice, hospitals and aged care rehabilitation centres.  After relocating to Newcastle, Fahim has spent 2 years working in private practice. He specializes in the treatment of musculoskeletal injuries, post-surgery rehabilitation, and return to sport management.
Fahim has added further skills in acupuncture and designing specialized strength and conditioning programs. He has a special interest in both injury management and injury prevention when trying to return to sport, work or leisure activities. Having worked with sporting teams in Orange, Fahim has a strong grasp on the mechanics of movement in various sports and the injuries that can take place.
When not in the clinic, Fahim is out exploring with his Cavoodles- "Kingston & LeBron" (will voluntarily show pictures), keeping up to date with various sports and finding hidden gems around the Hunter region.
Emma Hartley
Massage Therapist
Diploma of Remedial Massage Therapy
After moving back to Australia with her husband and four children in 2014, Emma decided to follow her passion of proactive health and wellness and complete her Diploma of Remedial Massage.
Since working as a massage therapist, Emma has worked with various NRL and A League soccer teams including the Newcastle Knights, Wallabies and the Newcastle Womens Jets.
Emma also enjoys relaxation massage and the benefits that it can offer.
When not massaging, Emma Enjoys spending time with her family including her cocker spaniel Ruby. Her favourite activities include skiing, getting outdoors and travel.
Treat yourself and book a Massage with Emma today. She can't wait to meet you.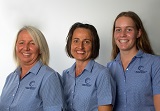 Sam, Margaret and Emma
Administration
Our friendly, professional reception team look forward to helping you with your physiotherapy needs. They are experienced in handling all types of claims and look forward to getting to know you. From left to right...
Sam has worked in medical reception for many years and joined Lambton Physiotherapy and Sports Medicine in 2018. She manages our front desk and is ready to help you with any queries involving your rehabilitation/treatment. Away from work Sam enjoys spending time with her family, travel and an icy cold diet coke.
Margaret has worked for Lambton Physiotherapy and Sports Medicine for 10 years. She has a wealth of knowledge helping clients with any questions they may have regarding their treatment.  Away from work Margaret enjoys fishing and has won many tournaments fishing in the Nelson Bay Diggers fishing club.
Emma is studying nursing at Newcastle University and working at Lambton Physiotherapy and Sports Medicine during her breaks from uni. She plays soccer in the WPL for Merewether and loves coming to work to spend more time with her dad, practice principal, Chris.